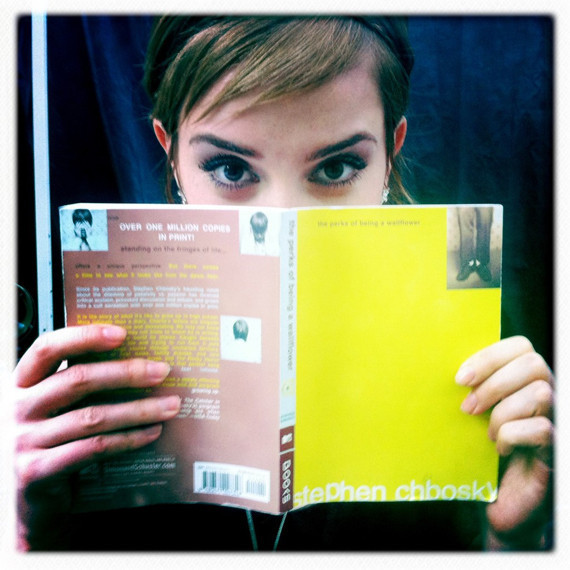 Yesterday I read The Perks of Being a Wallflower by Stephen Chbosky. I've been meaning to read this book for a long time, but as I am very easily distracted, I hadn't gotten around to it. The approach of the movie version compelled me to go ahead and read it before I got distracted again. It was a great story. I won't spoil the plot for anyone who is planning to read it/see the movie. But I will say that the ending... I did not see it coming. And it took me a minute to fully comprehend what discovery had just been made. I literally "gasped out loud" when I put the pieces together. And unlike some people, I believe that this part is the missing piece to making sense of Charlie. The only thing I still want to know is who he was writing the letters to. On a different note, I am really excited for the cast of the movie. I think they picked the perfect actors for the characters. I'm most excited about Emma Watson (love her) playing Sam and Paul Rudd (love him) playing Bill.
And finally, I thought I would share my favorite quotes from the book - it was full of them.
"We accept the love we think we deserve."
"And in that moment, I swear we were infinite."
"I hope the people who wrote those songs are happy. I hope they feel it's enough. I really do, because they've made me happy. And I'm only one person."
"I really think that everyone should have watercolors, magnetic poetry, and a harmonica."
"Things change. And friends leave. And life doesn't stop for anybody."
"I would die for you. But I won't live for you."
"Every person has to live for his or her own life and then make the choice to share it with other people."
"Running after the sun... And everything was as good as it could be."
"So, I guess we are who we are for a lot of reasons. And maybe we'll never know most of them. But even if we don't have the power to choose where we come from, we can still choose where we go from there. We can still do things. And we can try to feel okay about them."
"...Things are good with me, and even when they're not, they will be soon enough."